The Oh Wise Buffalo is a random bison silhouette in Alex's backyard. She and Allena discovered it one day while Ronald hunting, and for some reason reminded them of Madison. Unlucky for Madison, she is now stuck with the new nickname.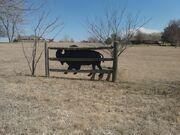 Ad blocker interference detected!
Wikia is a free-to-use site that makes money from advertising. We have a modified experience for viewers using ad blockers

Wikia is not accessible if you've made further modifications. Remove the custom ad blocker rule(s) and the page will load as expected.